Offering the best quality Commercial Kitchen Equipment at economical prices....

About Us

Incorporated in the year 1998, we, VIVEK'S EQUIPMENT INDIA, are one of the distinguished Manufacturers, Exporters, Importers and Traders of a wide assortment of Commercial Kitchen Equipment. We also provide services for the transportation and installation of the commercial kitchen equipment. Being an ISO 9001:2008, we design, assemble and make our product range in accordance to the standards set in the national and global markets. The equipment offered by us is widely demanded in malls, restaurants, hotels etc. and are appreciated for their quality features like compact design, sturdy construction, minimum maintenance, easy functionality and longer service life. Further, our services are smooth and are undertaken under expert supervision. Also, we provide Transportation Service to the clients

To continue with our substantial growth, we give immense attention to our infrastructural improvements and resource building. We are backed by a fully-fledged production unit that is well- equipped with all the requisite machinery and tools. This directly has enabled us to consistently keep up our production volume and meet the demands of our esteemed clients. We also have a spacious and appropriately ventilated warehouse that helps us store products safely and ready to be delivered. Further, we are blessed with employees who have in-depth knowledge of the product domain and market needs. Our infrastructure and staff collectively allow us to competently deliver a gamut of quality equipment, tested and confirmed of durability, functionality and flawlessness.

Why Us?

We have received industry wide recognition in our domain of work because we are committed to complete customer satisfaction and ensure the following:

Delivery on time
Quality products at competitive prices
Fulfilling customer's specific demands
Transparent and fair dealings
Prompt and flawless services
Quality Assurance

We are an ISO 9001:2008 company and fully dedicated to our quality policy. The quality analysis of the products starts from the initial stage of raw material procurement and throughout the manufacturing process until the final process of packaging and delivery. Our quality experts conduct various strict quality checks during the process of production, like raw material quality, design specification, product fabrication, etc. Owing to our stringent efforts, we have been able to offer the best quality products with a monthly production capacity of 150 to 200 Pcs and have been successful in securing a trustworthy name.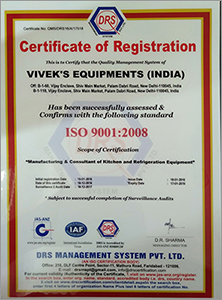 Get in touch with us